Sharif and his children to face corruption charges: court

Political chaos across Pakistan following court ruling
Pakistan's Prime Minister Nawaz Sharif resigned after the Supreme Court ordered his disqualification from office following a corruption investigation into his family's finances, plunging the South Asian country into political turmoil ahead of a national election next year.
The five-member bench of the Supreme Court gave its unanimous verdict on Friday after a graft probe found disparity between his family's wealth and his known sources of income. Two justices had earlier voted to disqualify him in a verdict in April, while the other three mandated a further investigation. Finance Minister Ishaq Dar was also referred to the national anti-graft agency by the court.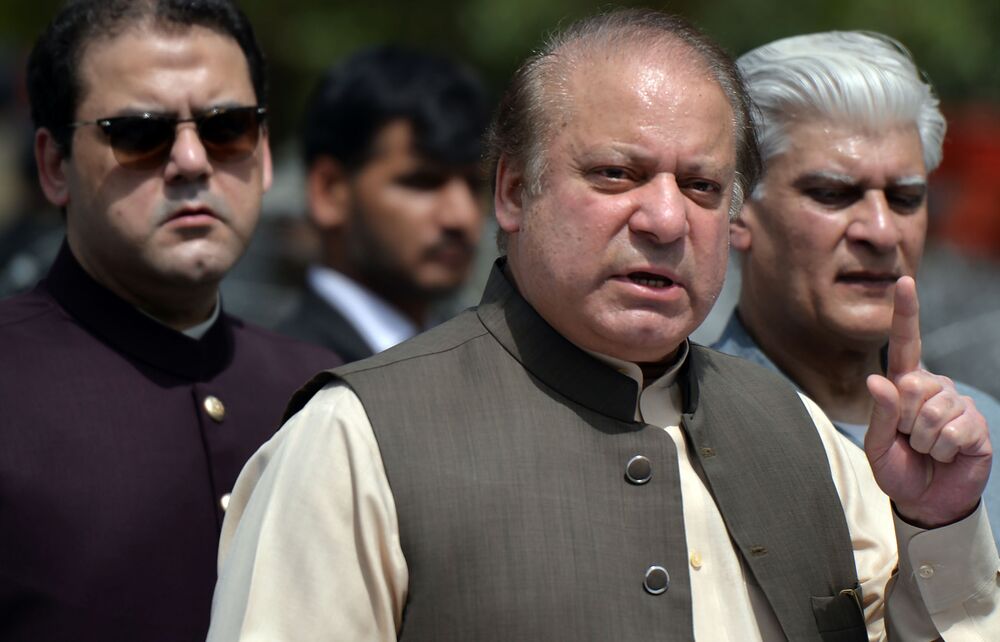 "Despite all the reservations the verdict will be implemented," Sharif's office said in a statement. "Soon after the verdict was announced, the prime minister relinquished his official responsibilities."
Sharif is the second world leader to be felled by the Panama Papers leak, following the resignation of Iceland's prime minister last year. The leaks also led to the exit of Spain's industry minister, two pension fund CEOs in Iceland and senior European bankers. It also prompted increased regulatory scrutiny of offshore accounts around the world.
"Having furnished a false declaration under solvent information, Mian Nawaz Sharif is not honest," Justice Ejaz Afzal Khan said as he read the verdict in court. "Therefore, we disqualify him to be a member of the national assembly," and "with immediate effect thereof cease to be prime minister of Pakistan."
QuickTakeHow the Panama Papers Sunk Another World Leader
While the findings against Sharif are a blow for the Pakistan Muslim League-Nawaz (PML-N), they're unlikely to lead to its collapse. The ruling party has majority in the National Assembly, Parliament's lower house, which elects the premier. A loyal lawmaker, such as Sharif's nephew Hamza or planning minister, Ahsan Iqbal, are seen as potential candidates who could immediately take up his position and allow the government to complete its five-year term until next year's election.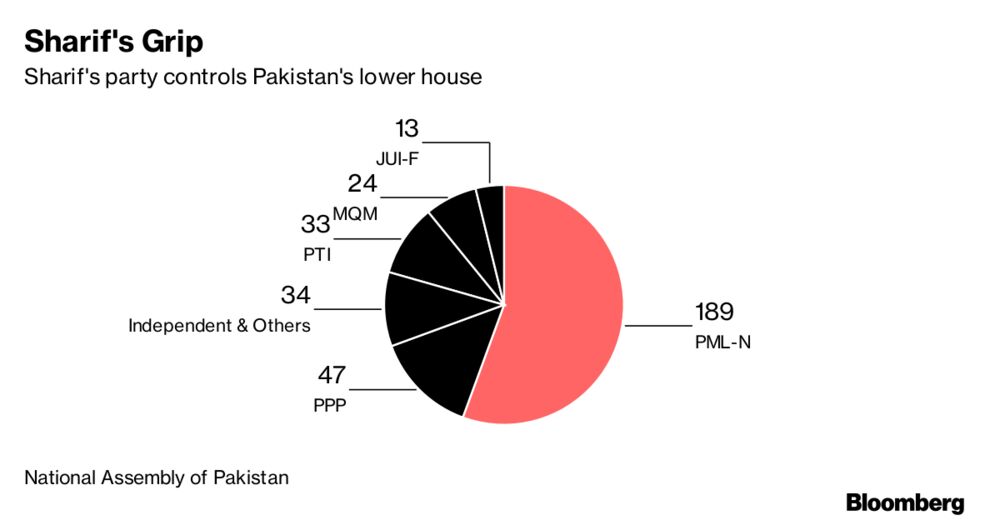 Shehbaz Sharif, who is the prime minister's younger brother and chief minister of Punjab, is also seen as succession candidate, though the party would have to call elections to get him into office as he's not a lawmaker in the National Assembly.
Political Chaos
Nevertheless, the verdict and ensuing political chaos may set back the party's attempts to revive the economy after it staved off a balance-of-payments crisis in 2013 by turning to a $6.6 billion International Monetary Fund loan program. The economy grew at a rate just above 5 percent in the last fiscal year, according to government estimates, and China is financing more than $50 billion in badly-needed infrastructure projects across the nation as part of its 'One Belt, One Road' trade route plan.
It will cause "political instability and we have already seen a trailer of its impact on the stock market," said A.Z. Hilali, chairman of the political science department at the Peshawar University. "Impatience, intolerance and unacceptability is back in politics and that may affect the next elections' polling pattern and outcome."
Information Minister Marriyum Aurangzeb told reporters in Islamabad that the ruling party deplored the ruling, but wasn't surprised by the verdict.
The ruling party alliance is expected to fight this verdict and push the court to hold similar proceedings against other parties, said Economist Intelligence Unit analyst Firat Unlu. "A judicial tit-for-tat looms."
"The fact that the ruling was unanimous will make it difficult for the PML-N to make a case in public," Unlu said. "Pakistan is looking at a period of major political uncertainty at a time when macro economic vulnerabilities are building up — the risk of a disorderly move in the currency has risen."
Still, security improvements and the China-Pakistan Economic Corridor are expected to continue regardless of the fate of Sharif and his family, said Hasnain Malik, global head of equities research at Dubai-based Exotix Capital. "Governance standards, long-term, are surely enhanced by the detailed scrutiny of a sitting PM."
Corruption Investigation
The Supreme Court started looking into the corruption allegations against the Sharifs in November after a report from the International Consortium of Investigative Journalists, known as the Panama Papers, showed Sharif's children either owned or have signing rights to authorize transactions of four offshore companies in the British Virgin Islands. Those holdings were alleged to have been used to make property purchases in London. Sharif's political rivals doubted the premier's family obtained those assets legally.
The head of the second largest opposition party and former cricket star Imran Khan has driven a passionate campaign seeking the premier's resignation.
"Today's development has strengthened democracy in Pakistan," Khan told reporters in Islamabad.
Politicians in the coup-prone country have long been accused of corruption and have often been thrown out of power. No prime minister has completed a five-year term since parliamentary democracy was introduced in Pakistan under the constitution in 1971.
Ruled by its powerful military for much of its 70-year history, Pakistan ranks at 116 out of 176 countries in Transparency International's 2016 corruption perception index.
— With assistance by Chris Kay, Faseeh Mangi, Iain Marlow, and Ismail Dilawar
Please follow and like us: